As shown above, the white Cunard Line china is one of the patterns which were made to be interchangeable onboard an ocean liner as far as class distinctions. This delicate white china with black logo was produced for use in both the Verandah Cafe and the Third Class areas of the Mauretania and Lusitania.
The internet is a vast place for information - yet almost no information is provided on china dating from the 1900s & 1910s for Cunard. During the early 1900s, the china above and the 'Ormond' pattern china (Blue flow) were used onboard Cunard's fleet. The earliest examples of the 'Floral Pastel' china were believed to have appeared with the launch of the Lusitania and Mauretania in 1907. A recent plate in the pattern sold as a souvenir for the Laconia was dated 1905 and now shows that this pattern was not intended for the maiden voyages of the two ships. It is commonly refered to as the "Floral Pastel" pattern, but some collectors have come to call this the "Lusitania" pattern. It is thought these were only used onboard the Lusitania and Mauretania, but it is known this pattern was used at least as earlier souvenirs onboard the Lucania & Campania (and probably as standard dinnerware.) There are two renditions of the 'Floral Pastel' pattern, one is an earlier and less ubiquitous design with free-flowing ribbons while these pieces shown are of the more common "modernized" design. The two saucers below are dated 1907, while the snack tray is dated 1908. Both cups are not stamped on the bottom and the plate impression is too faint to be read.
Around 1913, Cunard introduced the Spiderweb pattern onboard the Lucy, Maury, and Aquitania. Examples of this pattern were found on the Lusitania's wreck and recovered. There are two variations of this pattern as well. The first is the plain black and white pattern, and the second has the same pattern with red included as an overlay color to give is a more pink appearance from a distance. (See below.)
Cunard "Floral Pastel" China Setting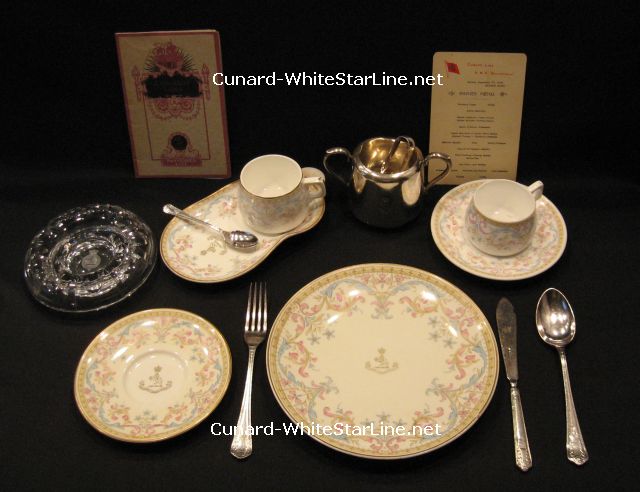 Shown above, Clockwise from top left:
1. Mauretania Passenger List
- Dated from 8/27/1927, this is a passenger list from Southampton to New York. What makes it interesting is that it has Andrew Cockburn as the Chief Engineer. He originally survived the sinking of the Lusitania and continued working onboard the Mauretania.
2. Floral Pastel Snack Tray w/ Tea Spoon
3. Silver Sugar Bowl w/ Tongs
- The sugar bowl is dated from 1914, while the tongs are believed to be from the 1920s.
4. 2nd Class Menu - 12/21/1913
5. Floral Pastel Tea Cup & Saucer
6. Laurel Leaf Soup Spoon
7. Laurel Leaf Butter Knife
8. Floral Pastel Dinner Plate
9. Laurel Leaf Dinner Fork
10. Floral Pastel Saucer
11. Crystal Ashtray, c1910.
Rare Ormond Pattern Oyster Dish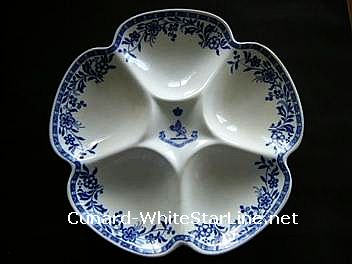 Dated 1905: Photo Courtesy of Anthony Lopo.