Titanic Artifacts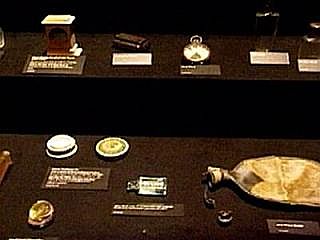 Recovered First Class Sink
In August of 2004, A visit was paid to the Franklin Institute of Philadelphia for their RMS Titanic Exhibition. Compared to the one they held in Harrisburg the following year, this exhibit was absolutely spectacular. When you first got your boarding pass, you started out on the pier with the side of the ship rising two stories in front of you. After entering the D-Deck Reception area to the tune of the Blue Danube, a full-scale Grand Staircase was built with artifacts in their cases all around. Walking down the First Class hallway brought you into the Verandah Palm Court & Cafe where the majority of recovered china was placed.
Probably one of the most breathtaking moments is when you entered a dark room with a solitary blue light shining on one of the Titanic's lifeboat davits. It is believed it came from the starboard side between boats 1 and 3 because of its frozen position. To this, one of James Cameron's movie lifeboats was connected. One was even able to place their hand on the crank mechanism and imagine what it was like grabbing onto this while boarding a lifeboat from an ever-listing ship. Unfortunately, this is the only item without a photo to post. These photos were found on a news website which no longer exists since cameras were not allowed in the museum itself.
First Class hallway set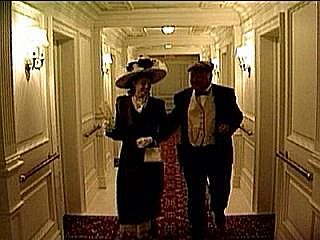 Visitors walked through this to get to the Verandah Palm Court.
Grand Staircase