RMS Lusitania Salvaged Film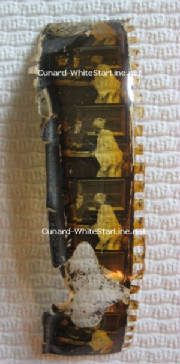 1982 Expedition
Film Cell Close-Up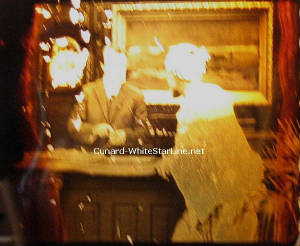 One of the rarer and most fragile items is this piece of film salvaged from her wreck by Oceaneering in 1982. This represents five cells from the sadly now lost-to-time "The Carpet from Baghdad." Despite its time on the bottom, you can still see the images on the film. No copy of the film was known to exist until some of it was salvaged from the wreck 27 years ago. It's hard to imagine something like this surviving on the ocean floor in the mangled wreck for all of these years. Sold at auction with the remainder of the film and other items, this piece was purchased from Brian Hawley in 2009.
Lusitania Souvenir Ladies Fans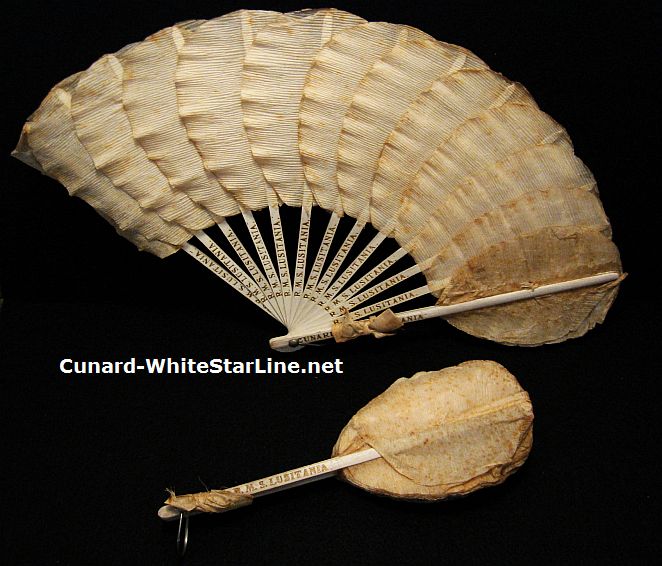 Shown above are two beautiful souvenir paper fans from the Lusitania. On both sides, the first wooden piece at each end is stamped 'Cunard - RMS Lusitania'. One one side, every wooden piece has 'RMS Lusitania' in gold. Each retains the original small ribbon as well. Both of these hail from the McCall Estate, where both mother and daughter were passengers onboard the ship and kept until sold in 2009. According to the
Mersey Maritime Museum
, which holds one of these fans: "This delicate souvenir was probably presented to a lady passenger at the Captain's Gala Night in Lusitania's ballroom." Due to the fragility of these paper and wood fans, not too many have survived the past 94 years. Both are in remarkable condition!
RMS Lusitania Souvenir Napkin Ring
Purchased onboard the great liner before she sank. Hallmark E.P.N.S.
The "Laurel Leaf" silverware pictured below is the style of silverware which was used onboard the great Cunarders. We have four pieces of this silverware, the 8" soup spoon, fork, and butter knife - along with the 5" tea spoon pictured with the Mauretania tea set. This pattern has the laurel on both sides of the handle with the Cunard rampant lion logo between. This silverware has been popular with the line but it is unclear how long it was used, though it is believes for a few decades. We believe in the 1920s & 30s, the Mauretania and Aquitania used this pattern and a pattern similar to WSL's 1910 Reeded pattern. More will be posted as it becomes available. Pictured on the previous page is a pair of silver plated asparagus tongs dating to the 1920s. Plain in design with the standard Cunard logo on the side.
Cunard Logo in the Laurel Leaf Pattern
Cunard Steamship Compamy Silver Sugar Bowl
Dated 1914 - Possibly used onboard Mauretania or Aquitania.